What are ATSDR Regional Offices?
ATSDR staffs a Regional Office within each of the U.S. Environmental Protection Agency's 10 Regional Offices. ATSDR's regional representatives provide unique expertise, and special technical and field experience from their assigned regions.
Regional representatives serve as liaisons with all NCEH/ATSDR divisions and offices, and facilitate implementation of specific programs in each region. Regional representatives maintain current and historic knowledge of the sites and issues in their regions. They achieve this through the working relationships they have established with
EPA,
other federal and state agencies,
community groups, and
citizens.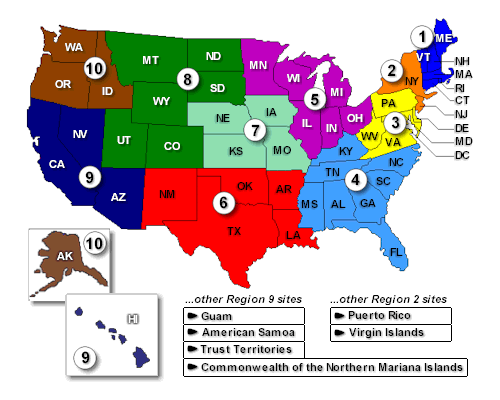 This information enables ATSDR to address regional issues with sensitivity and make informed decisions.
Because of their proximity to the communities, regional staff are often the first contacts on petitions for public health assessments. They disseminate appropriate information to individuals and maintain contact with the petitioners throughout the process. Regional staff attend public meetings and visit significant sites of interest to ATSDR to maintain up-to-date information on community concerns and the status of the sites.
Regional staff are involved in the preparation of almost all ATSDR's health consultations, either writing the consultation or providing technical assistance to the staff in the Atlanta headquarters. Most consultations originate with a request to a Regional Office, and regional representatives perform the initial data review. They often must obtain additional environmental data or demographic and site-specific information for more extensive health consultations.
Regional staff also engage in emergency response and preparedness activities. They have expertise in disaster preparedness and responded to many disasters in communities. Staff provide public health support and expertise to assist EPA and other partners during emergency events. They often develop and distribute information to area residents about protecting their health during an emergency and they regularly participate in training exercises with partners.
Regional offices lead ATSDR's land reuse and redevelopment (brownfield) program. This program aims to increase awareness within the development community about the benefits of including public health in land reuse and redevelopment projects. The program also provides tools and resources to encourage the involvement of local health departments in redevelopment decisions. Regional office staff assist communities and tribes that receive grants in identifying and assessing contamination at a brownfield or other redevelopment site and help them in making recommendations to protect health.
Page last reviewed:
October 14, 2021